Arab Studies Institute
Washington DC - Beirut
T 703-688-2745
Events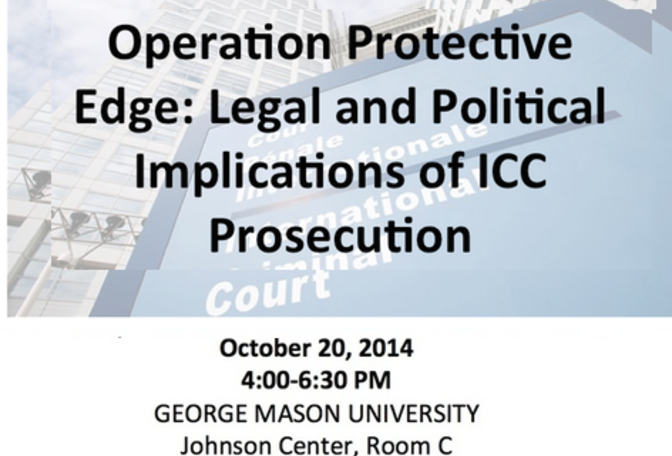 Operation Protective Edge: Legal and Political Implications of an ICC Prosecution

By David Luban, George Bisharat, Margaret deGuzman, Noura Erakat, Kevin Jon Heller

10/20/2014 12:00 pm

Location: Johnson Center, Room C, George Mason University
---
Join the Middle East Studies Program, the Trans-Arab Research Institute, Arab Studies Institute, New Century College, and Global Programs for a panel discussion on Israel's offensive, Operation Protective Edge, against the Gaza Strip.
Featuring...
David J. Luban Georgetown University, Georgetown Law Center
Margaret deGuzman Temple University, Beasley School of Law
George Bisharat University of California, Hastings College of the Law
Noura Erakat George Mason University, New Century College
Kevin Jon Heller University of London, SOAS
Live Stream Link:
4pm Washington DC
9pm GMT
11pm Beirut
In July and August, hostilities in the Gaza Strip left 2,131 Palestinians and 71 Israelis dead, including 501 Palestinian children and one Israeli child. Of Gaza's 1.8 million residents, 475,000 are living in temporary shelters or with other families because their homes have been severely damaged. The extent of destruction has raised questions around culpability for war crimes on all sides of the conflict. International organizations including the United Nations Human Rights Council, Amnesty International and Human Rights Watch have called for independent investigation.
Palestine is considering accession to the Rome Statute, which would grant the International Criminal Court the authority to investigate war crimes conducted in Palestinian territory. Such an investigation would bring both Israel and Palestine under scrutiny for events from this summer and as far back as 2012, and possibly to 2002 when the ICC was first formed to investigate war crimes.
This panel will explore the relevant legal questions under international criminal law as well as the political issues related to ICC accession by Palestine.
SPEAKER BIOS
David Luban is University Professor and Professor of Law and Philosophy at Georgetown University. He holds a Ph.D. in Philosophy from Yale University and a B.A. from the University of Chicago. In addition to his Georgetown responsibilities, he is currently the Class of 1984 Distinguished Chair in Ethics at the Stockdale Center for Ethical Leadership, United States Naval Academy. In 2012-13 he co-directed the Center for Transnational Legal Studies in London. Luban has also directed Georgetown's Center on National Security and Law.
Luban's books include Lawyers and Justice: An Ethical Study (Princeton University Press, 1988), Legal Modernism (University of Michigan Press, 1994), Legal Ethics and Human Dignity (Cambridge University Press, 2007), and Torture, Power, and Law (Cambridge University Press), as well as several edited anthologies on legal ethics, textbooks on international criminal law, and legal ethics. His books have been translated into Chinese, Japanese, and Spanish - most recently a book-length Spanish translation of A Theory of Crimes Against Humanity. His writing includes more than 150 articles on international criminal law, moral and legal philosophy, professional ethics, law and literature, just war theory, and issues surrounding the U.S. "war on terrorism." He has testified before both houses of the U.S. Congress.
Luban is a member of the American Academy of Arts and Sciences. He has been a Guggenheim Fellow and a Fellow of the Woodrow Wilson Center, and received the American Bar Foundation's Keck Award and the New York Bar Association's Levy Award, both for distinguished scholarship. In 2011 he was a fellow of the Institute for Advanced Studies at Hebrew University.
Luban joined the Georgetown faculty from the University of Maryland. He has held visiting chairs at the Fordham, Stanford, and Yale Law Schools; been a visiting professor at Harvard Law School and the Interdisciplinary Center (Israel); and a visiting professor of philosophy at Dartmouth College and the University of Melbourne. A frequent speaker in the United States, he has lectured in fifteen other countries.
Luban is on the editorial boards of Ethics & International Affairs and Legal Ethics, and is a Founding Editor of the weblog Just Security. He has served on the D.C. Bar's ethics committee, and chaired the AALS Sections on Professional Responsibility and on Law and Interpretation, as well as the Committee on Law and Philosophy of the American Philosophical Association.
Margaret M. deGuzman teaches criminal law, international criminal law, and transitional justice. Her research engages questions about the appropriate role of international criminal law in the global legal order, with a particular focus on the concept of gravity. She has authored a number of publications on such issues as the definitions of international crimes, the role of case and situational gravity in the legitimacy of the International Criminal Court (ICC), and the theoretical underpinnings of selection decisions at the ICC. She is currently participating in an international expert group drafting a model code for the investigation and prosecution of international crimes.
Professor deGuzman is a graduate of Yale Law School, the Fletcher School of Law & Diplomacy, and Georgetown University's School of Foreign Service. She was a Fulbright Scholar in Senegal and is currently a Ph.D. candidate at the Irish Center for Human Rights of the National University of Ireland.
Before joining the Temple faculty, Professor deGuzman clerked on the Ninth Circuit Court of Appeals and practiced law in San Francisco for six years, specializing in criminal defense. Her cases involved charges ranging from insider trading and trade secret theft to mail fraud and drug trafficking. Professor deGuzman also served as a legal advisor to the Senegal delegation at the Rome Conference on the International Criminal Court and as a law clerk in the Office of the Prosecutor of the International Criminal Tribunal for Former Yugoslavia.
George E. Bisharat was a trial lawyer for the Office of the Public Defender in San Francisco before joining the UC Hastings faculty in 1991. Professor Bisharat studied law, anthropology, and Middle East studies at Harvard, and wrote a book about Palestinian lawyers working under Israeli military occupation in the West Bank. He writes frequently on law and politics in the Middle East, both for academic audiences and for major media sources in the U.S. and abroad. Professor Bisharat is an avid fly fisher, sometimes in such exotic locations as Russia and New Zealand, and also writes articles for fly-fishing magazines. He sings and plays blues harmonica, and occasionally forms bands with student musicians to perform at UC Hastings events. His wife, Jaleh Bisharat, is a business marketing specialist, and his children, Valerie and Austin, are a source of pleasure and pride.
Noura Erakat is an Assistant Professor at George Mason University where she teaches in the legal studies, international studies, and human rights/social justice studies concentrations. Her scholarly interests include humanitarian law, human rights law, refugee law, and national security law. She earned her BA and JD from Berkeley Law School and her LLM in National Security from the Georgetown University Law Center. She is a Co-Founder/Editor of Jadaliyya e-zine. Prior to beginning her appointment at GMU, Noura was a Freedman Teaching Fellow at Temple Law School and has has taught International Human Rights Law and the Middle East at Georgetown University since 2009.
Upon completing law school, Noura received a New Voices Fellowship to develop a litigation unit aimed at redressing Palestinian human rights claims under the ATS in US federal courts. She went on to serve as Legal Counsel for a Congressional Subcommittee in the House of Representatives, chaired by Congressman Dennis J. Kucinich. In Spring 2010, Noura worked with a Lebanese human rights attorney to file habeus corpus petitions on behalf of Iraqi refugees detained by Lebanese authorities. Upon leaving Lebanon, she became the Legal Advocate for the Badil Resource Center for Palestinian Refugee and Residency Rights where she represented their claims before the Human Rights Council, human rights treaty bodies, among the UN diplomatic missions as well as among the US Administration and Congress.
Her scholarly publications include: "U.S. vs. ICRC-Customary International Humanitarian Law and Universal Jurisdiction" in the Denver Journal of International Law & Policy, "New Imminence in the Time of Obama: The Impact of Targeted Killings on the Law of Self-Defense" in the Arizona Law Review, and "Overlapping Refugee Legal Regimes: Closing the Protection Gap During Secondary Forced Displacement," forthcoming in the Oxford Journal of International Refugee Law . Noura's media appearances include MSNBC, Fox News, PBS NewsHour, BBC World Service, NPR, Democracy Now, and Al Jazeera. She has published in The Nation, The New York Times, The Los Angeles Review of Books, Huffington Post, IntlLawGrrls, The Hill, and Foreign Policy, among others. Noura is the co-editor with Mouin Rabbani of Aborted State? The UN Initiative and New Palestinian Junctures, an anthology related to the 2011 and 2012 Palestine bids for statehood at the UN.
Kevin Jon Heller is currently Professor of Criminal Law. Until 2014, he was Associate Professor & Reader at Melbourne Law School, where he also served as Project Director for International Criminal Law at the Asia Pacific Centre for Military Law, a joint project of Melbourne Law School and the Australian Defence Force. He holds a PhD in law from Leiden University, a JD with distinction from Stanford Law School, an MA with honours in literature from Duke University, and an MA and BA in sociology, both with honours, from the New School for Social Research.
Kevin's academic writing has appeared in a variety of journals, including the European Journal of International Law, the American Journal of International Law, the Journal of International Criminal Justice, the Harvard International Law Journal, the Michigan Law Review, the Leiden Journal of International Law, the Journal of Criminal Law & Criminology, Criminal Law Forum, and the Georgetown International Environmental Law Review. His books include The Nuremberg Military Tribunals and the Origins of International Criminal Law (Oxford University Press, 2011); The Hidden Histories of War Crimes Trials (Oxford University Press, 2013) (edited with Gerry Simpson); and The Handbook of Comparative Criminal Law (Stanford University Press, 2011) (edited with Markus Dubber). He is currently writing a book entitled A Geneology of International Criminal Law, which will be published by Oxford University Press in 2015. For the past eight years, Kevin has also been a permanent member of the international-law blog Opinio Juris.
On the practical side, Kevin has been involved in the International Criminal Court's negotiations over the crime of aggression, served as Human Rights Watch's external legal advisor on the trial of Saddam Hussein, and served from December 2008 until February 2011 as one of Radovan Karadzic's formally-appointed legal associates. He consults regularly with a variety of UN organisations (such as the United Nations Assistance Mission in Afghanistan — UNAMA) and human rights groups (such as Gisha and Human Rights First) and is a core trainer for Professionals in Humanitarian Assistance and Protection, a Brussels-based NGO that conducts IHL trainings in various locations around the world.
Sponsored by Middle East Studies Program, the Trans-Arab Research Institute, Arab Studies Institute, New Century College, and Global Programs.