Arab Studies Institute
Washington DC - Beirut
T 703-688-2745
Events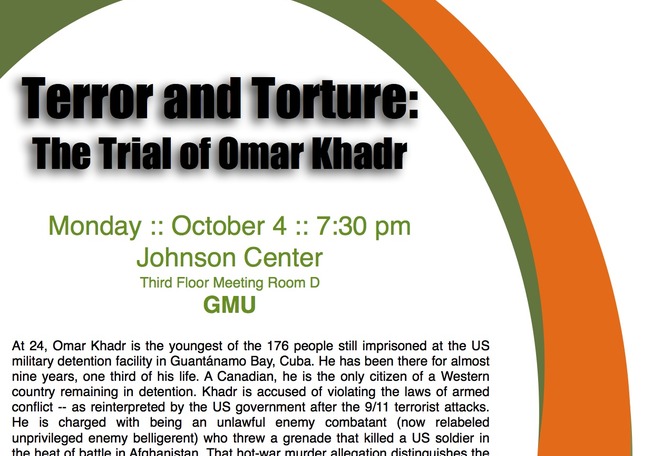 Terror and Torture: The Trial of Omar Khadr

By Dr. Lisa Hajjar

10/03/2010 11:30 pm

Location: Johnson Center, Third Floor Meeting Room D, George Mason University
---
At 24, Omar Khadr is the youngest of the 176 people still imprisoned at the US military detention facility in Guantánamo Bay, Cuba. He has been there for almost nine years, one third of his life. A Canadian, he is the only citizen of a Western country remaining in detention. Khadr is accused of violating the laws of armed conflict -- as reinterpreted by the US government after the 9/11 terrorist attacks. He is charged with being an unlawful enemy combatant (now relabeled unprivileged enemy belligerent) who threw a grenade that killed a US soldier in the heat of battle in Afghanistan. That hot-war murder allegation distinguishes the case against Khadr from those charged with terrorist acts outside a theater of war, including al-Qaeda's 1998 US embassy bombings in Kenya and Tanzania, the 2000 attack on the USS Cole and the September 11 attacks, which precipitated the launch of the global war on terror.
Lisa Hajjar is an associate professor in the Sociology Department at the University of California - Santa Barbara. She is the author of Courting Conflict: The Israeli Military Court System in the West Bank and Gaza (University of California Press, 2005), and is currently working on a book about torture-related litigation in the US.
Sponsored by the Middle East Studies Program, the MEtc Film Club, and the Ali Vural Ak Center for Global Islamic Studies.