Arab Studies Institute
Washington DC - Beirut
T 703-688-2745
Events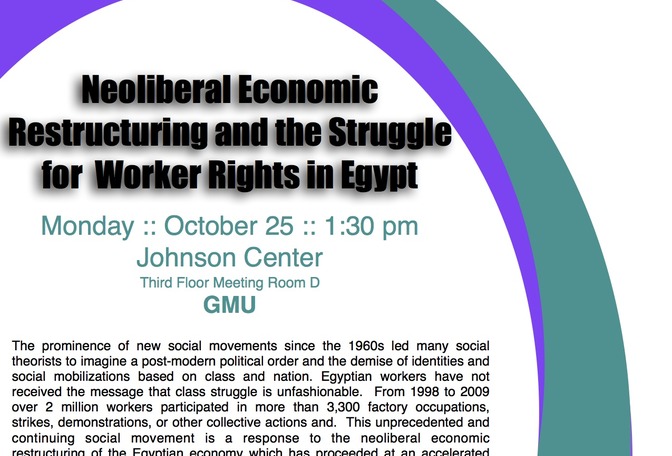 Neoliberal Economic Restructuring and the Struggle for Worker Rights in Egypt

By Dr. Joel Beinin

10/25/2010 05:30 am

Location: Johnson Center, Room D, George Mason University
---
The prominence of new social movements since the 1960s led many social theorists to imagine a post-modern political order and the demise of identities and social mobilizations based on class and nation. Egyptian workers have not received the message that class struggle is unfashionable. From 1998 to 2009 over 2 million workers participated in more than 3,300 factory occupations, strikes, demonstrations, or other collective actions and. This unprecedented and continuing social movement is a response to the neoliberal economic restructuring of the Egyptian economy which has proceeded at an accelerated pace since the July 2004 installation of the government of Prime Minister Ahmad Nazif.
Joel Beinin is the Donald J. McLachlan Professor of History and Professor of Middle East History at Stanford University. From 2006 to 2008 he served as Director of Middle East Studies and Professor of History at the American University in Cairo. In 2001-02 he served as president of the Middle East Studies Association of North America. He is the author of The Struggle for Worker Rights in Egypt (Solidarity Center, 2010); and Workers and Peasants in the Modern Middle East (Cambridge University Press, 2001). He received his Ph.D. from the University of Michigan in 1982, his M.A. from Harvard University in 1974, and his B.A. from Princeton University in 1970.
Sponsored by the Middle East Studies Program, the Ali Vural Ak Center for Global Islamic Studies, and the MEtc Film Club.