Arab Studies Institute
Washington DC - Beirut
T 703-688-2745
Events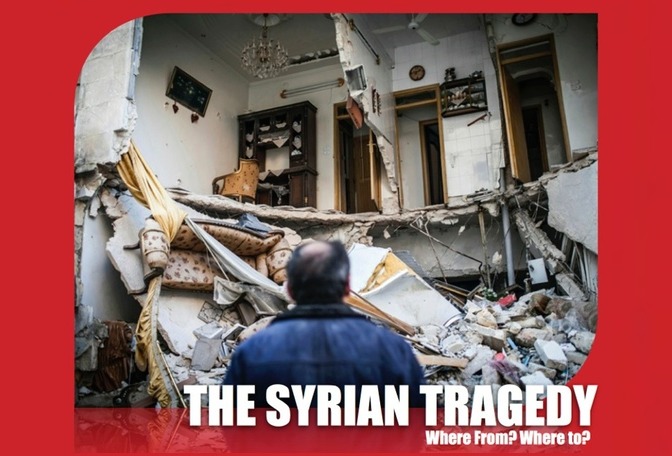 THE SYRIAN TRAGEDY: Where From? Where to?

By Omar Dahi, Rochelle Davis, Yasser Munif, Ibrahim Hamidi, Lisa Wedeen, Bassam Haddad, Daniel Neep and Osama Esber

04/03/2014 11:00 am

Location: Johnson Center Cinema, George Mason University
---
Presented by Middle East Studies & Arab Studies Institute. CO-Sponsored by Global Interdisciplinary Programs,
Center for Global Islamic Studies, Center For Global Studies, Department of Public and International Affairs
Where From? Where to?
featuring
Omar Dahi • Hampshire College/Jadaliyya
Material Roots of the Uprising: Rethinking the Economic Thesis
Rochelle Davis • Georgetown University
Gender, Danger, and Vulnerability:
Syrian Men and War
Yasser Munif • Emerson College
Participatory Democracy and Local Governance in Manbij
Ibrahim Hamidi • Al-Hayat Newspaper, London
Reporting on Syria
Lisa Wedeen • University of Chicago/Jadaliyya
Scenes of Generational Change: Notes from the Syrian Uprising
Bassam Haddad • George Mason University/Jadaliyya
Understanding the Syrian Tragedy:
Economics, Politics, and Regional Relations
Daniel Neep • Georgetown University
Class, Sect, and the State Prior to the Uprising
Osama Esber • Tadween Publishing
Syrian Writers/Intellectuals and the Uprising
Thursday, April 3
3:00 - 5:00 PM, Johnson Center Cinema
GEORGE MASON UNIVERSITY
Bassam Haddad is Director of the Middle East Studies Program and Associate Professor in the Department of Public and International Affairs at George Mason University, and is Visiting Professor at Georgetown University. He is the author of Business Networks in Syria: The Political Economy of Authoritarian Resilience (Stanford University Press, 2011). Bassam is currently editing a volume on Teaching the Middle East After the Arab Uprisings, a book manuscript on pedagogical and theoretical approaches. His most recent book is a co-edited volume with the title Dawn of the Arab Uprisings: End of an Old Order? (Pluto Press, 2012). Bassam serves as Founding Editor of the Arab Studies Journal a peer-reviewed research publication and is co-producer/director of the award-winning documentary film, About Baghdad, and director of a critically acclaimed film series on Arabs and Terrorism, based on extensive field research/interviews. More recently, he directed a film on Arab/Muslim immigrants in Europe, titled The "Other" Threat. Bassam is Co-Founder/Editor of Jadaliyya Ezine and serves on the Editorial Committee of Middle East Report. He is the Executive Director of the Arab Studies Institute, an umbrella for five organizations dealing with knowledge production on the Middle East, and Founding Editor of Tadween Publishing.
Osama Esber is a Syrian poet, short story writer, publisher and translator who presently lives in Chicago. He is director of the publishing House Bidayat (Beginnings) based in Damscus. Among his poetry collections are: Screens of History (1994); The Accord of Waves (1995); Repeated Sunrise over Exile (2004); and Where He Doesn't Live (2006). His short story collections are entitled The Autobiography of Diamonds (1996); Coffee of the Dead (2000); and Rhythms of a Different Time (in process). He has translated works by Michael Ondaatje, Terry Eagleton, Richard Ford, Bertrand Russell, Toni Morrison, Nadine Gordimer, and Noam Chomsky, to name a few.
Daniel Neep is Assistant Professor in Comparative Politics at the Center for Contemporary Arab Studies, Georgetown University. Prior to joining Georgetown in 2013, he was a Lecturer (Assistant Professor) at the Department of Politics at the University of Exeter, England. He also worked for nearly 3 years as Research Director (Syria) for the Council for British Research in the Levant (CBRL), in which capacity he was based in Damascus throughout the first year of the Syrian uprising before relocating to Amman, Jordan. Before moving into academia, Neep was Head of the Middle East & North Africa Programme at the Royal United Services Institute for Defence and Security Studies (RUSI), a foreign policy think tank in London, from 2002 to 2004. He has spent several years in Syria since the late 1990s, variously studying, working, and researching. He is the author of Occupying Syria under the French Mandate: Space, Insurgency and State Formation (Cambridge University Press, 2012). He is currently working on a new research project looking at the spatial and economic dimensions of state formation in Syria from 1920 to 2011.
Rochelle Davis is an Associate Professor of Anthropology and Academic Director in the Center for Contemporary Arab Studies at Georgetown University. Her Ph.D. is from the University of Michigan in Modern Arabic Literature and Anthropology. Her research focuses on refugees and conflict. She's published numerous reports on Syrian refugees post-2011, Iraqi refugees who fled to Jordan, and a book, Palestinian Village Histories: Geographies of the Displaced (Stanford University Press, 2010), which addresses how Palestinian refugees today write histories of their villages that were destroyed in the 1948 war.
Yasser Munif is a professor of sociology at Emerson College where he teaches courses on nationalism, political economy, Middle Eastern politics, and social movements. He recently spent several months in Northern Syria where he is conducting research on local governance, post-Assad reconstruction, and internally displaced persons. He is a co-founder of the "Global Campaign of Solidarity with the Syrian Revolution" which aims to shed light on grassroots resistance and everyday struggles in Syria.
Lisa Wedeen is the Mary R. Morton Professor of Political Science and the College and the Co-Director of the Chicago Center for Contemporary Theory at the University of Chicago. Her publications include Ambiguities of Domination: Politics, Rhetoric, and Symbols in Contemporary Syria (1999); "Conceptualizing 'Culture': Possibilities for Political Science" (2002); "Concepts and Commitments in the Study of Democracy" (2004), Peripheral Visions: Publics, Power and Performance in Yemen (2008), "Ethnography as an Interpretive Enterprise" (2009), "Reflections on Ethnographic Work in Political Science" (2010), and "Ideology and Humor in Dark Times: Notes from Syria" (2013). She is the recipient of the David Collier Mid-Career Achievement Award and an NSF fellowship. She is currently working on a book about ideological interpellation, neoliberal autocracy, and generational change in present-day Syria.
Ibrahim Hamidi is a Syrian journalist, who heads the Damascus bureau of Arab daily newspaper Al-Hayat, and contributes to several other international media outlets and thinktanks. Previously, he served as head of the Lebanese Broadcasting Corporation (LBC) office in Damascus, in addition to his work with al-Hayat, and as a senior writer for Forward Magazine in Damascus. Hamidi's work focuses on strategic issues in the Middle East, with special insight into Syria's internal and regional politics. He is also a Research Fellow and co-founder of the Syrian Studies Center at the University of St Andrews in Scotland. Hamidi is also a co-founder of the Arab Investigative Journalism Program (ARIJ). Hamidi is married to writer and novelist Dima Wannous, daughter of the acclaimed Syrian playwright Saadallah Wannous.
Omar S. Dahi is an associate professor of economics at Hampshire College and a visiting fellow at the Carnegie Middle East Center. He specializes in economic development and international trade, with a focus on South-South economic relations and the political economy of the Middle East and North Africa. Dahi also serves on the editorial team of the Middle East Report and is co-editor of the Syria page at Jadaliyya. Dahi's work has been published in various academic journals, including the Journal of Development Economics, Applied Economics, and the Southern Economic Journal.