Arab Studies Institute
Washington DC - Beirut
T 703-688-2745
Events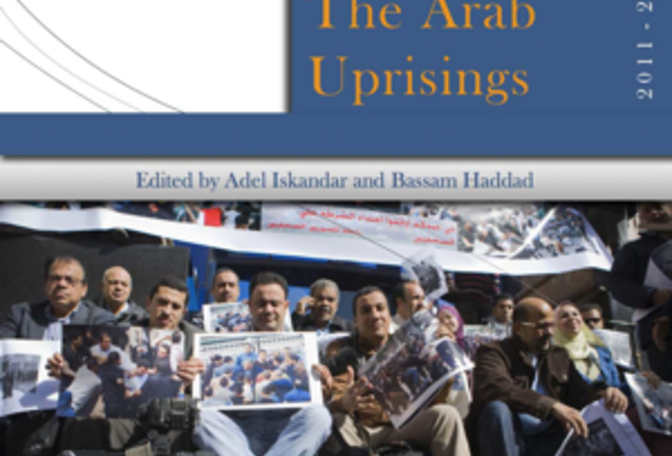 Mediating the Arab Uprisings

By Bassam Haddad and Adel Iskandar

11/26/2013 11:30 am

Location: Awarded excellence in service by Pi Sigma Alpha Honor Society Xi Lambda Chapter for role as acting president
---
The Arab Studies Institute (ASI), Tadween Publishing, and George Mason Universitys Middle East Studies Program and Center for Global Islamic Studies on present " Mediating the Arab Uprisings" by Adel Iskandar and Bassam Haddad on Tuesday, November 26, 2013 at 4:30PM, at George Mason University Planetary Hall, Room 129.
From "Facebook revolutions" to "Al-Jazeera uprisings," the outburst of popular activism across the Arab world has either been attributed to the media, drawn up by the media, observed through the media, or decontextualized by the media. Bloggers become icons, self-proclaimed experts become interpreters of unfolding events, stereotypes are cultivated, and autocratic regimes continue to subdue freedom of the press. The uprisings have become the most compelling media stories in recent memory. With so much at stake, the burden of relaying human narratives accurately and responsibly is a burden on all journalistic establishments worldwide.


In a unique collection of essays that covers the expanse of the Arab popular protest movements, Mediating the Arab Uprisings leaves no stone unturned by offering spirited contributions that elucidate the remarkable variation and context behind the fourth estate's engagement with these mass protests.


While the public debate about the coverage of the Arab uprisings remain effervescent and polarizing, the essays in this volume go beyond the cursory discussion to historicize media practice, unsettle pre-existing suppositions about the uprisings, puncture the pomposity of self-righteous expertise on the region, and shatter the naiveté that underlies the reporting of the uprisings. The volume includes essays on the tribulations of covering Syria, the contextualization and demythologizing of Facebook activism, the New York Times' reporting rituals on Palestine, the tumult of Egypt's media post-Mubarak, the ominous omnipresence of perennial media darling Fouad Ajami, the faltering of Al-Jazeera Arabic in the wake of the uprisings, the gendered sexuality of reporting Egypt, and journalism's damning failure on Iraq. The first volume of its kind on this pressing topic, Mediating the Arab Uprisings is a primer for the curious reader, a pedagogical tool for media studies and communication, and a provocative collection for the seasoned scholar. The authors will discuss the book and the topic in the public lecture.