Arab Studies Institute
Washington DC - Beirut
T 703-688-2745
Events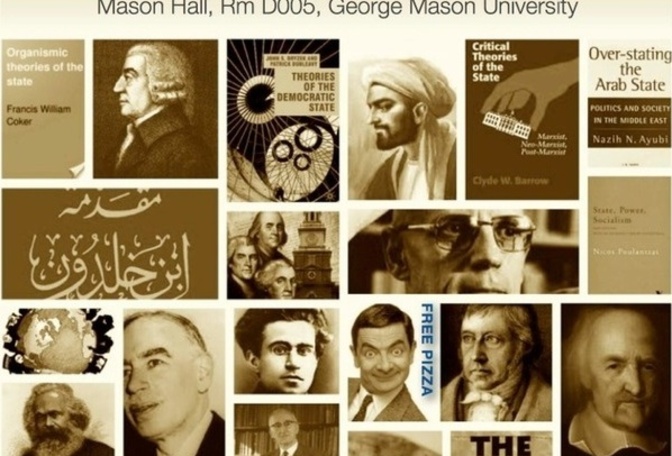 Theories of the State: Methodology Panel

By Char Miller, Bassam Haddad, Matthew Scherer, Jo-Marie Burt, David Wilsford, Mariely Lopez-Santana and moderated by Ahsan Butt

04/17/2013 03:30 pm

Location: George Mason Universitys' Mason Hall, Room D005.
---
The Arab Studies Insitute (ASI), George Mason Universitys' Middle East Studies Program, Public and International Affairs Department, Graduate Political Science Society present Theories of the State: A Methodology Panel on Wednesday, April 17, 2013 @ 6PM at George Mason Universitys' Mason Hall, Room D005.
The relationship between theories of the state and political/social science is paramount. As an analytical topic, "theories of the state" lies at the intersection of empirical and theoretical inquiry. State institutions, structures, and categories formed the background of most contemporary concerns with politics. Even when not directly linked to state mechanisms, our ways of thinking often retain concepts related to state power. Politics in the twenty-first century still requires thinking about and engaging with the state. These scholars illustrate many different ways to work in the shadow of the state.
Moderator Ahsan Butt
Char Miller | Dronology: Reigning From Above |
Bassam Haddad | Between Autonomy, Neutrality, and Instrumentality: The Development State |
Matthew Scherer | Reflections on the State Form: Ancient, Modern, and Post Modern |
Jo-Marie Burt | States of War: Latin America's 'Dirty Wars' and their Aftermaths |
David Wilsford | Black Box or Sectoral Colonies: Aggregating and Disaggregating the Modern State |
Mariely Lopez-Santana | Theories of the State: Welfare States |