Arab Studies Institute
Washington DC - Beirut
T 703-688-2745
Events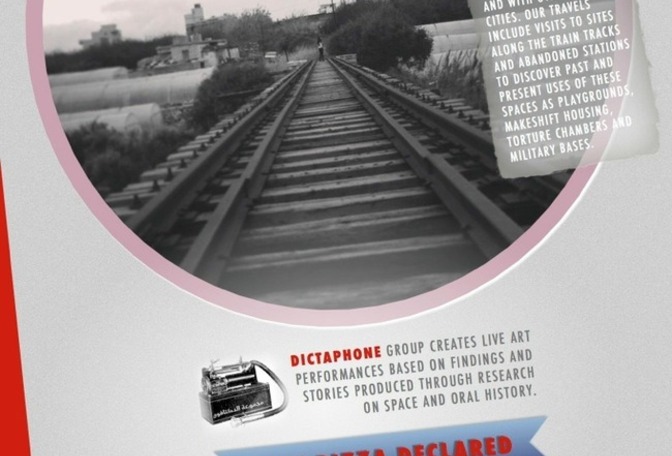 Nothing to Declare: A Lecture Performance

By Tania El Khoury, Abir Saksou and Petra Serhal

04/22/2013 09:30 am

Location: George Mason University Lecture Hall 1
---
Join the Arab Studies Institute (ASI), George Mason University Middle East Studies Program and Middle East Etc. Film Club in a unique lecture performance by live artist Tania El Khoury, architect and urbanist Abir Saksou and performer and producer Petra Serhal in "Nothing to Declare," on Monday April 22, 2013 @ 1:30 PM at George Mason University Lecture Hall 1.
Nothing to Declare is a research-based lecture performance that explores borders within Lebanon, those between Lebanon and its neighbors, and across the Arab world. Our journey starts at a derelict train station in Beirut, and continues as each one of us sets off on a different trip following one of the three train tracks that used to connect Lebanese cities with each other and with other Arab cities. Our travels include visits to sites along the train tracks and abandoned stations to discover past and present uses of these spaces as playgrounds, makeshift housing, torture chambers and military bases.
We aim to tour this project throughout the Arab world, including Palestine. In each Arab country, the performance will be expanded through site-specific oral history about people's mobility in that particular country and about our journey crossing the borders to get there.
Nothing to Declare can be viewed at any point during our four-year journey across the Arab world, though it will never be the same performance it was. Audiences can also follow the Nothing to Declare journey on our travel blog.