Arab Studies Institute
Washington DC - Beirut
T 703-688-2745
Events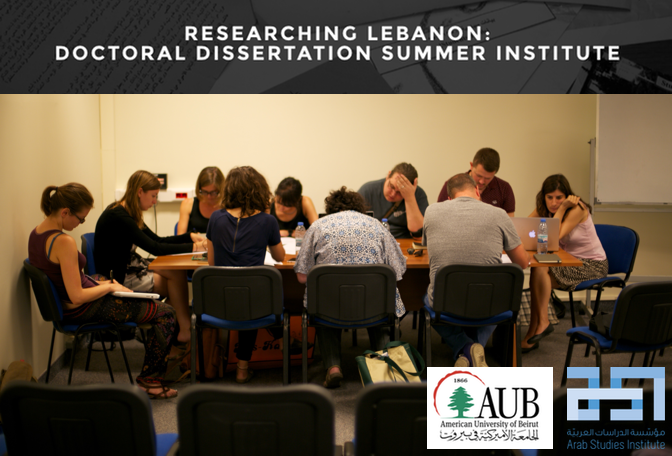 The 2016 Lebanon Dissertation Summer Institute

By The Arab Studies Institute and the American University of Beirut

06/13/2016 09:00 am - 06/24/2016 05:00 pm

Location: The American University of Beirut
The Lebanon Dissertation Summer Institute:
(click here to visit the official site)
This doctoral dissertation summer institute aims to provide a framework for facilitating and advancing critical doctoral dissertation research on Lebanon, in line with the overall objective and thrust of the Arab Studies Institute's Lebanon Project. Over the past several years, academic scholarship in general and doctoral dissertation projects in particular have increasingly sought to focus on Lebanon as a primary case study and arena of academic inquiry. This includes researchers based in the Middle East, the United States, and Europe, and spans several disciplines including history, anthropology, political science, and economics. One impetus for this increasing emphasis on researching Lebanon within Middle East studies has been the real or perceived inaccessibility of other regional states for research purposes in the wake of intensifying foreign intervention, domestic repression, and other forms of violence. Another impetus has been the substantial development of the scholarly literature on Lebanon over the past two decades, coupled with a number of important research-advancing initiatives that have been inaugurated in the country over the past several years. Consequently, the number of PhD students and aspiring scholars seeking to conduct fieldwork and academic research on Lebanon continues to increase.

Yet at the same time, graduate-level pedagogical approaches to Lebanon largely isolate knowledge production on the country, its inhabitants, and its dynamics. For those Phd students based at institutions of higher education outside of Lebanon, literature on the country is seldom fully integrated into the graduate coursework. Furthermore, such students very rarely find themselves at institutions with access to a scholar of Lebanon to fulfill the role of course professor, academic advisor, field examiner, or dissertation committee member. For those PhD students based at institutions of higher education inside Lebanon, literature on the country is rarely engages with in a comparative regional framework in graduate coursework. These dynamics are particularly important to take into account given the frequent and problematic ways that historical and contemporary political, economic, social, and cultural dynamics in Lebanon are exceptionalized vis-à-vis the comparative study of societies in general and the Middle East in particular.

By bringing together PhD students of various disciplinary training and topical foci, this institute creates a space to interrogate modify, and develop critical approaches to the study of Lebanon. Central to this process will be increasing students' familiarity with the contours of knowledge production as well as of field research in Lebanon.

Goals of the Doctoral Dissertation Institute
Facilitate logistical preparation for archival and other forms of research fieldwork.
Deepen participants' theoretical and empirical foundations for the study of Lebanon.
Introduce applicants to the main questions and methods of various discipline re Lebanon.
Contribute to the development of a doctoral dissertation research and writing community.
Expand critical knowledge production on Lebanon.

A group of 10-15 PhD students, representing an array of disciplines, research agendas, and institutional affiliations will come together to participate in the summer workshop each year. In doing so, they will both advance their academic training and initiate (or build on) their fieldwork.

Institute Organizers

This institute is being co-convened and co-directed by Ziad Abu-Rish and Nadya Sbaiti under the auspices of the Arab Studies Institute (ASI) in partnership with the Center for Arab and Middle Eastern Studies (CAMES) at the American University of Beirut. It is made possible due to a grant received by the Arab Studies Institute (ASI) and George Mason University (GMU), along with additional funding by CAMES-AUB. The ASI-GMU grant is run by Bassam Haddad, Director of the ASI and the Middle East and Islamic Studies Program at George Mason University, and aims at enhancing publicly engaged scholarship in the Arab world.