Arab Studies Institute
Washington DC - Beirut
T 703-688-2745
Events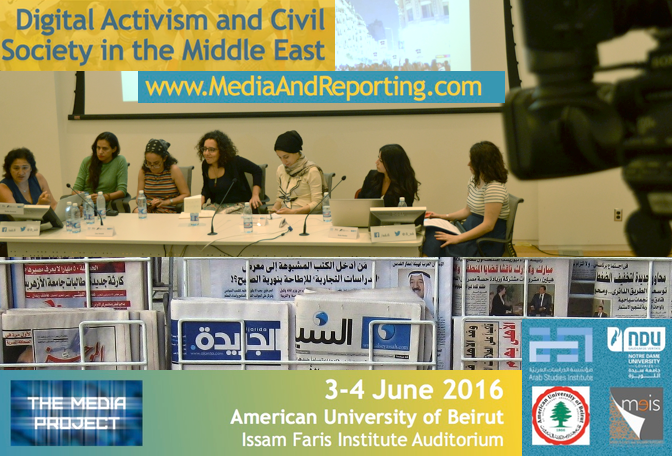 Digital Activism and Civil Society in the Middle East and North Africa

By The Arab Studies Institute, GMU's Middle East and Islamic Studies Department, Notre Dame University--Louaize, and the American University of Beirut

06/03/2016 09:00 am - 06/04/2016 05:00 pm

Location: The American University of Beirut
Digital Activism and Civil Society in the Middle East and North Africa
June 3 & 4 @ Issam Fares Auditorium, American University of Beirut
About the Workshop
As part of the
Arab Studies Institute
's "The Media Project," the second in a series of critical workshops, conferences, and events will be held in Beirut, Lebanon to address the relationship between digital activism as spurred by the Arab uprisings and civil society institutions and actors.
This workshop and conference, which are co-sponsored by the Arab Studies Institute, the Media Studies Program and the Asfari Institute for Civil Society and Citizenship at the
American University of Beirut
, and the Department of Media Studies at
Notre Dame University
, aim to convene civil society activists, active researchers, and media practitioners to reflect on the scope of digital activism in the region, with a particular focus on Lebanon and several other countries including Egypt, Syria, Tunisia, and Bahrain. Speakers will discuss the role of digital media activism in promoting civil and political rights in light of renewed challenges to social, economic, and political injustice. Academics with specialization in the respective protest movements will reflect on the possibility of organic transnational solidarity as well as shared visions, goals, and strategies.
This conference will be an integral component of the networking of activists, scholars, media, and intellectuals with an interest in social movements online and the digital dimensions of civil society. The output of the conference will include the publication of a selection of the top papers and interventions from the conference as well as audio lectures and interviews with participants to be posted on ASI's audio journal
Status
.
Participants
Panelists: Imad Bazzi, Lucien Bourjeily, Haramoun Hamieh, Bassam Al Kantar, Diala Haidar, Sarah Jamal, Safa Al-Ahmad, Alaa Shehabi, Lina Attalah, Sami Ben Gharbia, Malihe Razazan, Neamat Badreddine, Jessica Dheere, Mohammad Dibo, Rouba El Helou, Riad Kobeissi, Diana Skeini, Chaker Noon, Habib Battah, Nazeer Rida
Chairs & Discussants: May Farah, Maria Bou Zeid, Adel Iskandar, Shahram Aghamir, Rania Masri, Alicia Cagle, Eugene Sensenig, Layal Banham, Nassim Abi Ghanem
Organizers: May Farah, Maria Bou Zeid, Adel Iskandar, Elie Haddad, Alicia Cagle