مؤسسة الدراسات العربية
واشنطن، بيروت
T 703-688-2745
×
ASI Reception and KPP Launch at MESA!
16 نوفمبر 2016
Dear Friends, Colleagues, Readers:
It is with great pride that we invite you to join us at MESA 2016 for the Arab Studies Institute's reception and launch of the Knowledge Production Project on Friday at 9 pm at the Boston Marriott-Copley Place.
ASI-KPP Reception:
Knowledge Production Project Launching Reception
Date: Friday, November 18th
Time: 9:00-10:30 pm
Location: Fourth Floor, Salon D, Boston Marriott-Copley Place
We would like to thank all those who contributed to this and the various projects we are about to launch, feature, and/or celebrate at MESA, not least the Knowledge Production Project, which will go live on Friday in Beta form!
We will also be celebrating the publication of ASJ's new Fall Issue, the publication of Roger Owen's memoirs, A Life in Middle East Studies, from Tadween Publishing, and the launch of the new website/platform for our Status/الوضع audio magazine, which will go live also on Friday in Beta form!
We are also releasing two new JadMags from Tadween Publishing:
What is Political Economy?
Gaza in Context
Please visit us at our two book exhibit booths (#14-15) at the MESA Book Bazaar and discover all things ASI!
For a full listing of panels that feature Jadaliyya editors or ASI team members, click here.
If all else fails, join us at the official MESA dance party and shake off all kinds of anxieties on Saturday at 9 pm!
See you all soon!
-ASI/Jad Team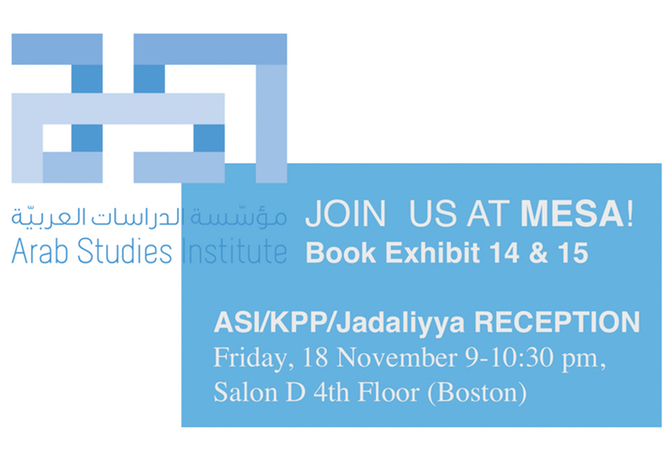 Public Events
ASI-Tadween Publishing Book Exhibit @ MESA 2016 Book Bazaar:
Location: Third Floor, Back Bay Conference and Exhibition Center
Booth #: 14-15.
ASI-KPP Reception: Knowledge Production Project Launching Reception
Date: Friday, November 18th
Time: 9:00-10:30 pm
Location: Fourth Floor, Salon D
Dance Party (Our own Bassam will DJ again!)
Date: Saturday, November 19th
Time: 9:00 pm
Check out our ADS in the MESA annual meeting program for more info! (i.e., the Political Economy Project Summer Institute, Tadween Publishing's new releases, Arab Studies Journal's Fall 2016 issue, Jadaliyya, the new Status/الوضع platform, the Knowledge Production Project Launch Reception, and more!)